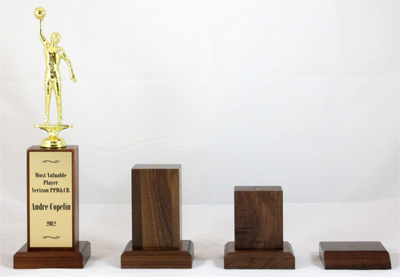 From petite, custom-constructed trophies with wooden bases and plastic or metal figures to Academy Award quality trophies, we have the variety you are looking for! Trophies are occasion-specific, so individuals are recognized with an award designed and engraved especially for them!
Our custom-created, standard trophies below are always in stock, so turnaround time is quick, and they sell for as little as $9.95 plus engraving. But the possibilities are endless, so please contact us to discuss your particular needs.
SIZES AND PRICES: STANDARD TROPHIES
Size (height)
6-8″
7-9″
8-10″
10-12″
Price Plastic Figure
$9.95
$18.95
$19.95
$21.95
Price Metal Figure
$14.95
$23.95
$24.95
$26.95
For engraving cost information, click here.