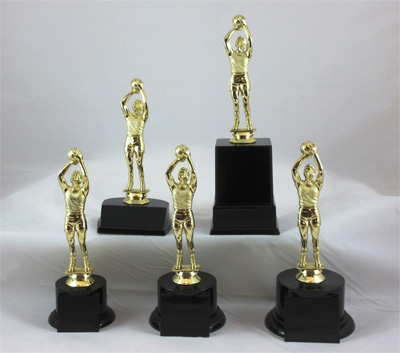 From small, affordable trophies with sturdy plastic bases and plastic or metal figures to Academy Award quality trophies, we have the variety you are looking for. Trophies are occasion-specific, so individuals are recognized with an award designed and engraved especially for them.
Our weighted black plastic trophies below are always in stock, so turnaround time is quick. And, they sell for as little as $12.00 plus engraving! But the possibilities are endless, so please contact us to discuss your particular needs.
SIZES AND PRICES: STOCK TROPHIES
Item #
TR100
TR200
TR300
TR400
TR500
Base Height
1″
1 3/4″
2″
2 1/4″
4 3/8″
Plastic Figure
$12.00
$14.00
$16.00
$18.00
$20.00
Metal Figure
$27.00
$29.00
$31.00
$33.00
$35.00
Metal Loving Cup
$34.00
$36.00
$38.00
$40.00
$42.00
For engraving cost information, click here.