Handmade walnut or cherry shadowboxes are a beautiful way to display ribbons, medals and other mementos. Choose from black, blue, green and red velvet backgrounds. Finally, add an engraved plate for a distinguished finishing touch!
SIZES AND PRICES: SHADOW BOXES
Item #
SB-503A
SB-503B
SB-503C
SB-505A
SB-505B
SB-505C
Size (height)
9X11″
10X13″
12X15″
8X10″
10.5X13.5″
12.5X15.5″
Cost
$135.00
$145.00
$165.00
$115.00
$125.00
$135.00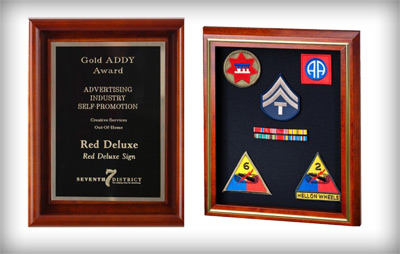 For engraving cost information, click here.